Hello again,
Well it has been a while since I have posted any updates so I thought I would take a couple of minutes and reflect back on the past 6 months.
The past six months have been a blur. We have been very busy with not only Premier Cruise Gear but also our awards business. But never too busy to take a cruise.
We generally take a longer cruise, 12 -14 days, in December or January. This past January we did a 14 day full transit cruise from LA. We stopped at the Mexican Riviera ports, did a full transit through the Panama Canal and ended in Miami.
While we cruise for vacation, we are also working on testing any new products, taking photos of our products on ships and meeting new potential clients. We also take along numerous give away items to pass out.
We have also started selling out items on Amazon along with continuing on Etsy,
Our door banners and door magnets continue to be the most popular items. We have even taken the magnets to a new level by creating our new "Key card holder and message boards magnets". These are perfect to place on the back of your cabin door and slide your key card holder in it. I thought of the idea during our last cruise when I kept constantly laying my card around in the cabin. It became frustrating to have to search for it every time I wanted to leave the cabin. So when we got home, I started working on the design. I incorporated a dry erase message board into the design so it would be convenient to leave messages to each other.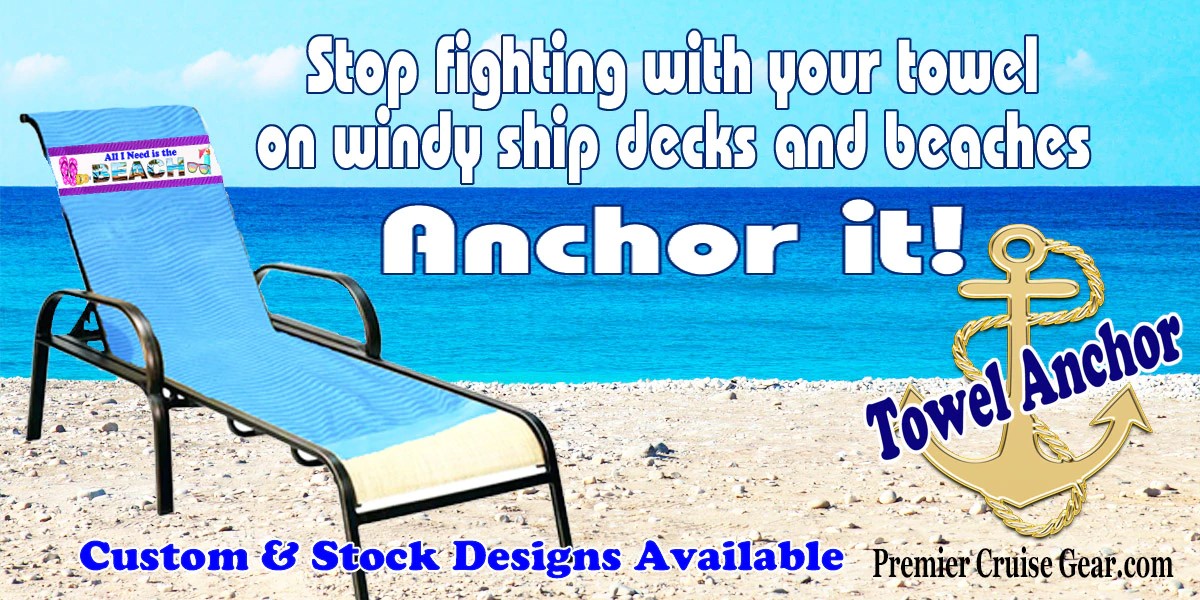 But our newest product is the one I am most excited about. We love our lounge chair covers and use them on every cruise. However, we noticed that they do take up a lot of room in our suitcase. I still wanted a product that would hold our towel down while on the ships and in the wind but didn't want to use those cheap plastic towel clips. So, we designed our new "Towel Anchors". These are perfect to hold your towel in place, save your spot on deck and make it easier to find your chair on deck. While we have seen similar items on the internet, we also wanted something that was fun, colorful and CUSTOM! So we developed them to be customizable with bright art work and your custom text. We spent the last 3 weeks developing them and have finally put them on our website. I am still working on more designs and will post them as they become available.
Before I go....if you are an organizer of any activities on your cruise, i.e Meet & greet, Slot Pull, Cabin Crawl etc...contact me and we might be able to send you some free give away items. These are generally cruising themed key chains, tote bags, door banners etc...
Our next cruise is over the 4th of July week on NCL Breakaway. If you are going to be on that cruise let me know and I will bring you a free gift. Just email me at karen@premiercruisegear.com
That's it for now, breakfast is calling. Until next time, Happy Cruising!
Recent Posts
Cruising is expecting to resume in July! Whether the cruise lines will require vaccines or not …

Get your Towel Anchor for your next cruise!Keeps your towel anchored to your lounge chair on those w …

Well it's November now and instead of looking back at the past year and how horrible is was, I want …