We have taken 20+ cruises over the past 10 years and since we have started Premier Cruise Gear we now cruise 2 - 3 times a year. We love every aspect of cruising. We have been on small, medium and some of the new mega ships. While each ship has different features and aspects, the one constant on every ship is chair hoggers?
What are chair hoggers? You might not know the term but you have definitely seen their work. They are the people who rise at the crack of dawn loaded down with towels. They then proceed to lay towels on lounge chairs by the pool. Usually at least 4, but I have seen more. After claiming their spot, they then disappear for hours.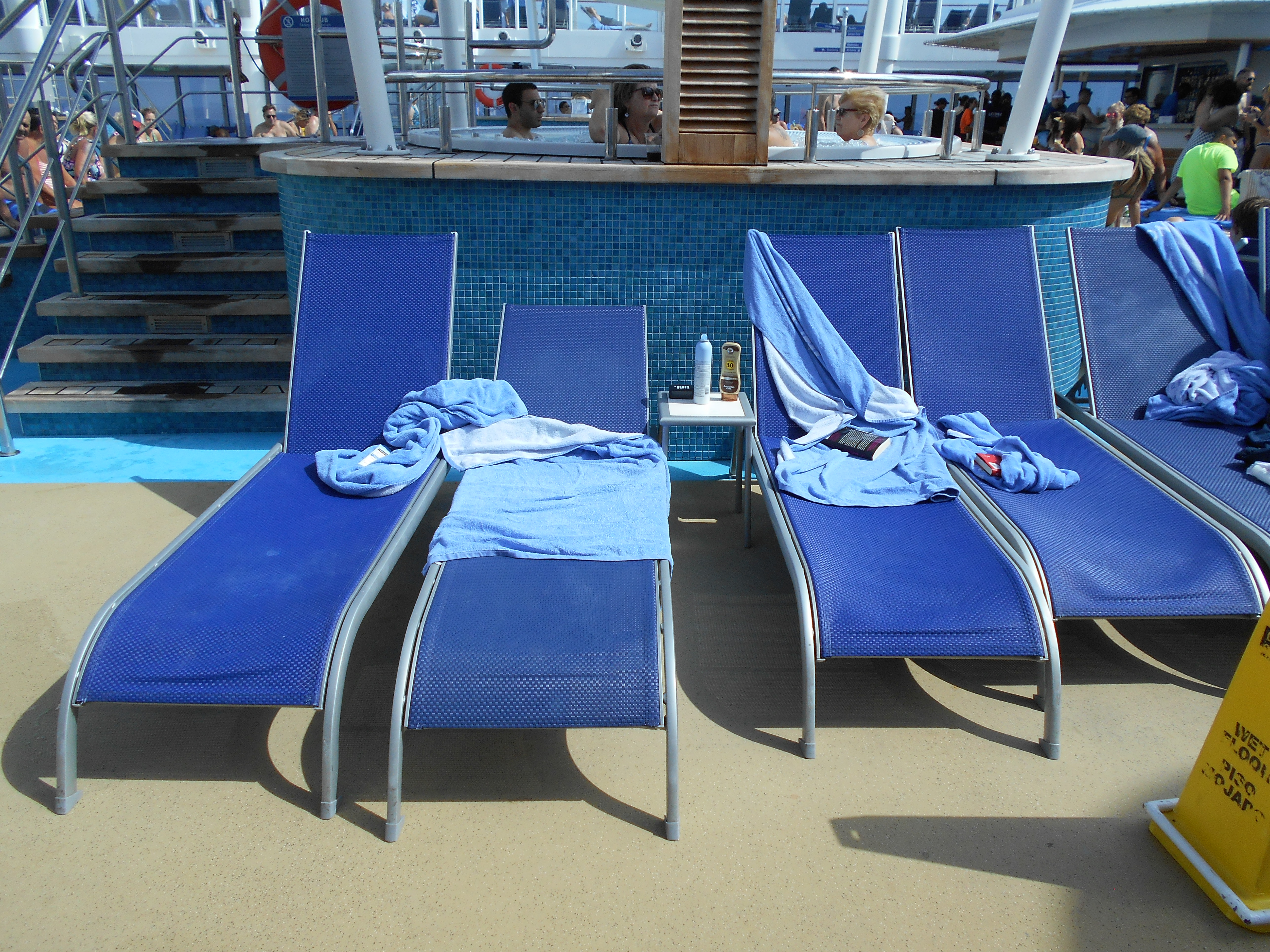 These six chairs, right next to the hot tub, were grabbed around 7 am and no one returned to them until 10 am
Now I am an early riser while my husband is not. So every morning I grabbed my pool bag and laptop and head to the pool deck. We like to sit in a shady area by the pool. So I pick out the 2 we want and set up our stuff. I have a nice relaxing morning checking emails, working on projects on my laptop, reading etc...until my husband wakes and joins me. If he wants breakfast, I don't normally eat breakfast, he goes to the buffet, fixes a plate and joins me poolside to eat. So much better than eating in a noisy, crowded buffet area. So we are set to enjoy our day poolside!
Since I am usually one of the first people by the pool every morning, I witness chair hogging in real time. I have watched people stake out their chairs and then leave for hours. It is quite frustrating to watch the pool area start to fill up and all of the chairs are taking by towels that have been left for hours. Now, if someone asks me, I will tell them how long the chairs have been abandoned and leave it up to them to decide whether or not to remove the towel and take the chairs.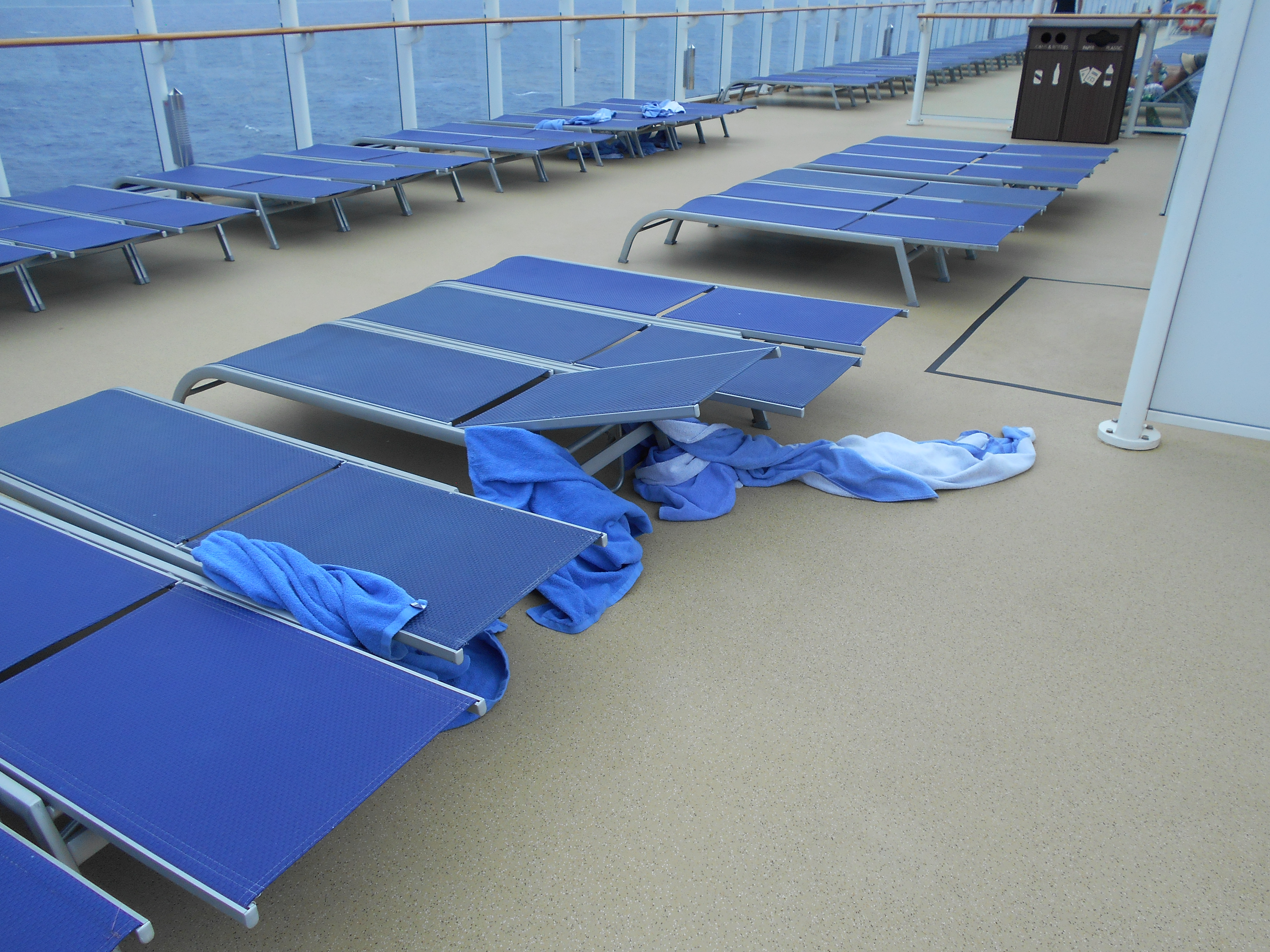 These towels never had a chance against the wind
Most cruise lines have a policy against chair hogging. They claim that after 40 - 60 minutes, the items will be removed and taken to the towel area. So why isn't this enforced more? I really don't know but I imagine it is because it can be quite hard to actually determine how long a chair has been abandoned unless a crew member is out there all of the time, like me. So, chair hogging goes on.
So if you grabbed a chair, layout your stuff and then head to the buffet, are you considered a chair hogger? Not if you are back in a reasonable time frame. Same goes for getting in the pool or hot tub. Also, most chair hoggers will only leave towels. They usually don't leave books, suntan lotion, water bottles etc...that fact makes it easier to recognize them in action.
Now you might have seen our lounge chair covers and towel anchors that we have designed on our site. These are some of our most popular items. We use them on every cruise. The Towel Anchors are the best if I do say so myself. They are soft, fun and really work to keep the towel on the chair.

So, are we encouraging chair hogging with our Towel Anchors and Chair covers?
Absolutely not! Our Towel Anchors were developed to aid in keeping your towel on your chair and not flying away on those windy ship decks. We tried using those cheap plastic clips, but they keep popping off, breaking and took up valuable space in our suitcase. So we develop these which are machine washable, customizable and roll up tightly to pack easily. I stick mine in my shoes in the suitcase. We also take them to the beaches in the ports and here at home.
So the next time you are on deck by the pool and are fighting to keep your towel from flying around or falling off your chair every time you move, keep our Towel Anchors in mind. And if you see us on a ship, stop by...we usually bring extras with us on every cruise.
Until next time....Happy Cruising!
Recent Posts
Cruising is expecting to resume in July! Whether the cruise lines will require vaccines or not …

Get your Towel Anchor for your next cruise!Keeps your towel anchored to your lounge chair on those w …

Well it's November now and instead of looking back at the past year and how horrible is was, I want …